The City of Lights...
...the Gambling Capitol of the World...
...Sin City...
Or the moniker, undoubtedly coined by a jaded tourist, "The Land of Lost Wages" - my personal favorite for America's great cartoon of a city, Las Vegas.
The very thought of a Vegas visit can either prompt an immediate response of disinterest or jumpstart visions of a vacation where one is not just allowed, but welcomed, to indulge in their wildest, forbidden urges. With a track record as blasphemous as that, one would expect advice to the tune of, "Don't get into too much trouble!" or "Make sure you don't go out alone!" Instead, the only thing I heard from countless veterans was "Don't walk anywhere. Everything looks really close, but it's a lot farther than it looks."
For me, this 4 day romp through The Strip was strictly for work. While in the midst of rehearsals for Balanchine's Square Dance with the City Ballet of San Diego, I had a gig. This job was a variation on a prior performance, kicking off a convention for various business peoples and led by a new and well-established aerial company based in Chicago: C5 Create With No Limits.
No, I don't do aerial work (I dabbled once in silks training, but monkey climbing up a hanging drape and holding my body weight up solely with my two arms is more trouble than it's worth). Instead, the founder of the company is strapped into a harness and does a dramatic running and dodging number to a motivational script and house music, while the rest of us serve as backup dancers, doing daring choreography on a giant conveyor belt, charmingly dubbed 'The Treadmill', and falling off backwards at the end onto a gymnastics mat. And this time, the big finish included confetti cannons, because there's no better way to kick off a work day than to fill a cavernous convention space with tons of flying, shredded paper.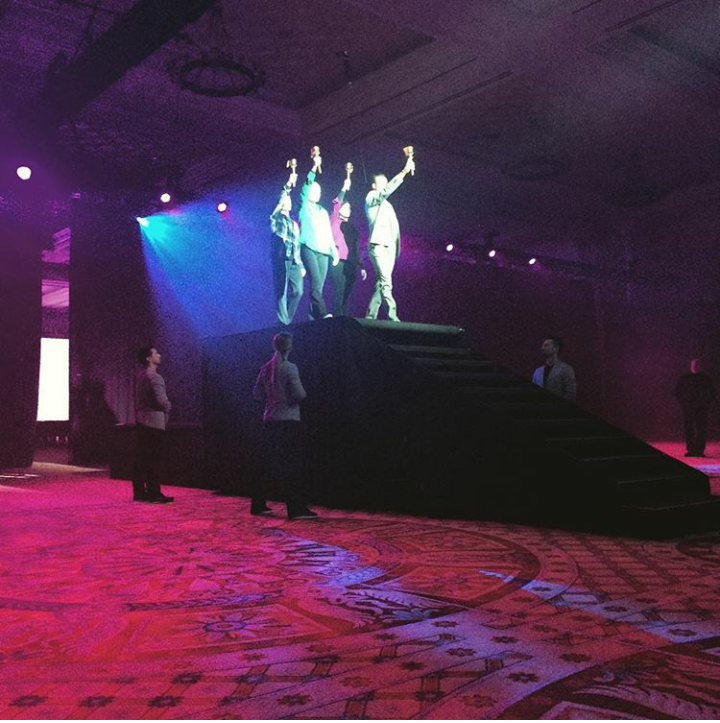 The lot of us, reuniting from all over the country to remount this show, were housed at Caesar's Palace, smack dab in the middle of Vegas's Strip.
For those who aren't acquainted with the city, The Strip includes 15 of the world's 25 largest hotels. Each hotel is a super-sized caricature of its themes most iconic symbols: Paris, Rome, the Middle East and China are all rising out of the desert on this 4 mile stretch. Architectural styles such as Beaux-Arts, Modern, Roman, Baroque, Moorish, Art Nouveau, and even Pirate Ship all naturally occur right here one next to the other. They otherwise would never been seen together in the same room; a modern day convenience!
After checking into the most spacious hotel room I've seen and having a good laugh to myself when spotting my room's jacuzzi, I joined my Chicago ladies for a dip in the 'Venus Pool'. It's one of many in a giant complex of watering holes in the hotel's courtyard. A dancer who had already had the pleasure of attending the pools over the summer, whispered rumors that one's carnal urges can take hold in these adult pools, leaving many topless. And I don't mean the men….
My fair skin disallows sunbathing, so I quit to my room, where I planned out my program for the following days. A full day was required for rehearsal. This, and the fact that I was still on central time, left me too tired to toss all my morals out the window and rack up a list of things that happened in Vegas that would stay in Vegas.
Though, the day's rehearsal was long, I still set time aside for a drink at the high-profile, Michelin Star restaurant: Hakkasan. Downing a delicious whiskey cocktail named Buddha's Palm.
This is a good point to interject a note about Vegas's prices. In one word:
HYSTERICAL.
After the initial comedy and once you realize you have no other option, that word becomes:
PARALYSING.
One castmate, after living life at the club late one night, came back to her room and ordered a grilled cheese from room service. At checkout, she discovered that grilled cheese was an outlandish $54. The saddest part of the story...she never got it. She fell asleep drunk and hungry.
Needless to say, my travel know-how prohibited me from falling victim to these tourist trap prices. Luckily, there appeared to be a happy medium: play slots where they deliver you free drinks! Now, since gambling addiction has happened in my family, I'm not stupid enough to toss all my earnings away. My tactic was to slowly play the slots, losing as little money as possible.
For my first ever slot machine, I came across this little gem: A Dolly Parton themed penny slot (a misnomer: since the lowest required bid is 50 c) that included bonus prizes of listening to a number of Dolly's hit tunes.
I slipped in my $20 and carefully scanned the game's rules which made no sense to me; maybe because they aren't actually rules, just an explanation of how the computer will take advantage of you. Shortly after seating myself, as planned, a waitress approached me for my drink order. I happily ordered a gin and soda. Waiting for my drink, but still not understanding how the machine worked, I hit the button with the lowest number on it and watched the digital pictures spin.
My bid was 50¢. Once the pictures of butterflies and pink heels slowed to a stop, it turns out I had won 20¢! Not bad for my first gamble, but I'm no idiot. This computer is built to capitalize on me and I won't have any of that. My drink arrived, so, I decided to cut my losses and cash out.
Now, this gin and soda was effectively 30¢; after my bet and meager win. Sure enough, the drink tasted like 30¢ as there wasn't 30¢ worth of well gin in this glass of soda water to be found. It holds true that nothing is free - Especially, not in Silver City.
For those on a budget, there is hope. On my cab ride from the airport, the driver let the cat out of the bag about the Fremont St. experience. Located in downtown Vegas, or Old Vegas, since the Strip is technically just outside the city limits, Fremont St. offers an incredible overhead canopy light show, zip-lining, and $2 - $3 drinks. Preferred by locals, the bars here are calmer, with a homey feel and cheaper drinks; "Hipster" even, but those are a local's words, not mine.
The next afternoon's show went off without any major hitches and received glowing reviews from the management.
It was time to pack my bags and head back to San Diego to finish cleaning up the ballet with the Balanchine Trust repetituer, Elyse Borne....
Square Dance is a major corps de ballet workhorse; too fast to think between steps with multiple formations requires a healthy mix of calm agility, and constant surveyal of the dancers' periphery. Showtime is near; two weeks away, and running it flawlessly, without stops, is necessary for building stamina. Not to worry because my Del Mar accommodations feature a cliff-side patio, with bedroom access. It's a place to toss back a few glasses and give my limbs the chance to just be limbs, and not paintbrushes for ballet.
You can watch a past televised performance of by the Miami City Ballet here: